BARO One
A high technology compact vehicle with Level 3 autonomy
High tech golf car – Limited Edition
BARO ONE is a high tech golf car specifically designed to transport people in private spaces such as university campuses, business parks and golf courses. Using sophisticated engineering, BARO ONE offers unprecedented levels of technology, comfort and design.
4 Senses
The autonomous system of BARO is based on four senses: artificial vision, ultrasonic sensors, laser LiDar and GPS. The four senses control different aspects of the vehicle. Firstly, they plan the route using GPS. Then they avoid obstacles by means of laser radar and are assisted by ultrasonic sensors when the vehicle stops and parks.
The vision system enables the detection of objects in front of the vehicle, and local map updates are provided automatically as the BARO ONE is always connected.
A car without a steering wheel
BARO ONE is the first vehicle to be manufactured without a steering wheel; it has an exclusive steering system and electronic drive by wire control.
As an auxiliary control system, BARO ONE has a joystick for manual driving that replaces the old steering wheel, revolutionising the traditional concept of controlling a car. The joystick commands acceleration, braking, stopping and turning.
BARO ONE has a sophisticated double wishbone front suspension, a configuration that is usually found in high-end sports or racing cars.
The rear suspension has trailing arms, coil springs and a Panhard rod, as used on rear-drive passenger cars with rigid axles, such as the Volvo 940. It is decades ahead of the leaf spring suspension of traditional golf buggies.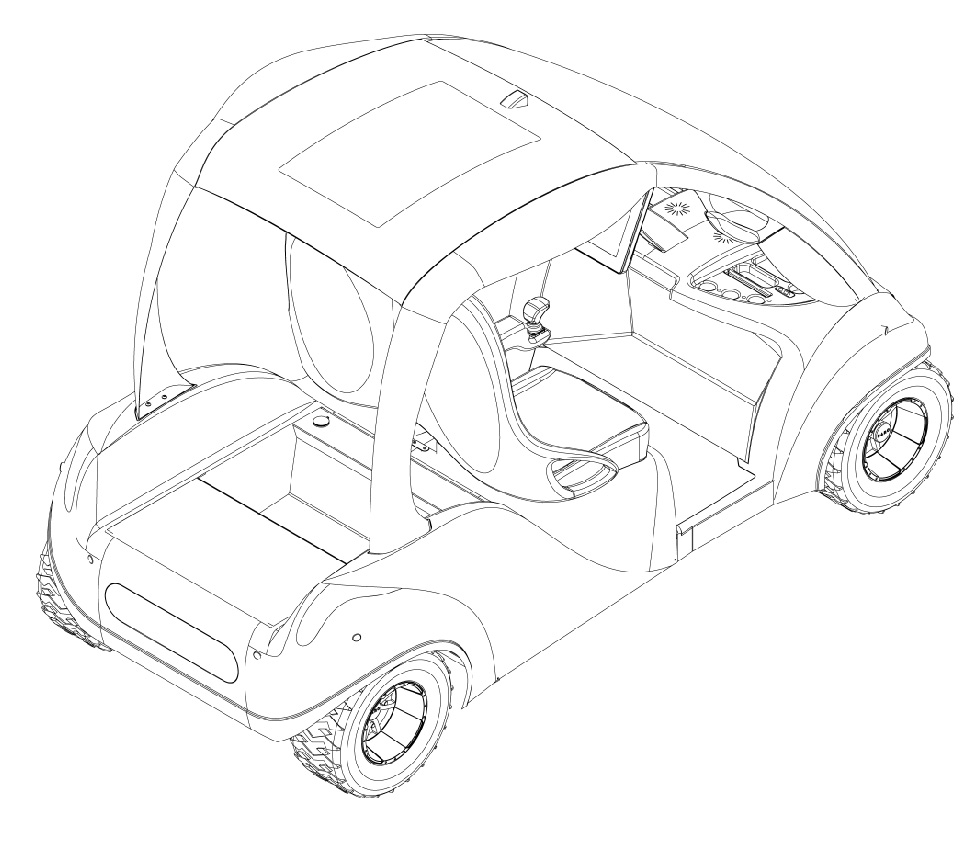 Advanced Design
The flowing organic styling, with its panoramic windscreen, signifies that BARO ONE brings a new level of design quality to this type of vehicle. The passenger compartment provides
optimum space and comfort
.
The chassis uses the principles of advanced car design. The front suspension is by double wishbones and coil springs, a layout shared with big manufacturers such as Jaguar and Maserati. The rear transmission comes from Graziano, the Italian company best known for supplying gearboxes and transaxles to Aston Martin, Ferrari and Lamborghini.
The technology placed in BARO ONE enables Level 3 autonomy, which means that it can operate without any driver involvement. It includes both an autopilot and an auxiliary joystick for manual driving.
The dashboard also features a 12″ digital display that provides vehicle information (e.g. battery charge) as well as access to all driving modes. In autonomous mode, the Tablet allows the driver to select either a pre-determined destination or a specific point within the zone configured on the map. It also controls the vehicle functions, such as lighting – it is the visible face of the autonomous driver.
In manual mode, the Tablet is the co-pilot. It alerts the driver to potentially dangerous situations, such as driving towards a prohibited area. It also displays the distance to objects to help the driver anticipate a manoeuvre.

BARO ONE's level 3 autonomy powered by our Jetson Xavier NX carrier board, our LITA carrier, enables drivers and passengers to follow a predetermined route, avoiding any prohibited or dangerous areas.
The hardware consists of cameras and sensors that detect other vehicles, pedestrians and any obstacles on the road. The hardware array is controlled by highly sophisticated Artificial Intelligence software to interpret the information and prevent accidents.
The autonomy of the BARO ONE, called conditional autonomy, can control the vehicle but enables the driver to intervene at any time through the auxiliary joystick.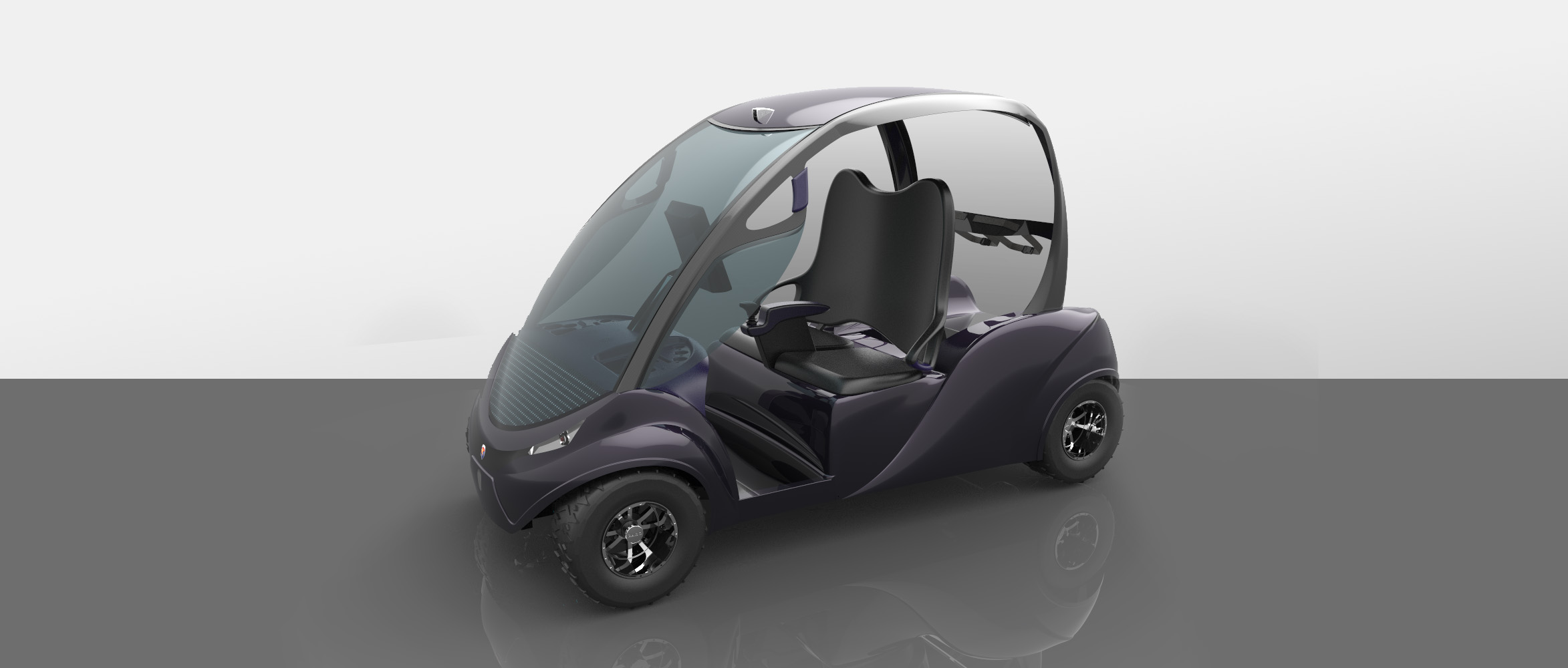 Applications
BARO ONE Modular Platform
BARO ONE is perfect for golf courses, airports, private resorts, industrial parks, factory complexes or any other environment which features a boundary.
Models
Golf Car 2Seats
Security
4Seats
Processor
BARO Brain Main Computer (NVIDIA Module)
Networking
CAN-FD with encryption 5 mbits and compatible CANBUS with 1 Mbit/s
BUS Ethernet Gigabit
Perception
3 Cameras FLIR with SONY sensor
2 Radar operating at 68-71 gigahertz in front and rear connected by CAN-FD
Optional LiDar 16/32 Beams with 360-degree coverage from ROBOSENSE
GPS Ublox and IMU
HMI (Human Machine Interface)
Joystick connected with CANBUS
Tablet 12" with graphical software to show how the car is receiving the information
Mechatronic
BARO Drive-by-wire system with CAN-FD interface and steering angle sensor
Digital Pedals to control the accelerator and brake with CAN-FD Interface and speed sensor
Lights controller with CAN-FD Interface
Dimensions
Overall length: 2,597 mm

Overall width: 1,245 mm

Wheelbase: 1,965 mm

Minimum ground clearance: 130 mm
Power Supply / Drive Train
Motor: Permanent magnet axial flux DC

Output rating: 8.6kW
Batteries: Lithium-Ion pack with BMS
Transaxle: Oerlikon Graziano – Two step reduction
Chassis & Body
Frame: Lightweight aluminium & steel frame. Exclusive "subframes assembled system"
Phosphate treatment and electro-deposition epoxy-base coating for steel parts

Body parts manufactured from RTM Technology (Resin Transfer Molding Process).
Mechanical Platform
Steering: Rack and pinion with the electric motor. Drive by wire system
Front suspension: Double wishbone suspension, with automotive parts and coil overs
Rear suspension: Rear axle mounted with trailing links, Panhard bar and automotive shock absorbers/coil springs
Service Brake: Regenerative braking system
Parking Brake: Automatic Electro-Magnetic & Brake Drums
Performance
Maximum forward speed: 24 km/h
·Maximum reverse speed: 11 km/h
Range (up to): 60 km (depending on speed, use, etc.)
Seating capacity: 2 or 4 persons
Dry Weight (without batteries): 235 kg
Kerb Weight: 315 kg
Cargo bed size (LxW) 870mm x 570mm
Vehicle Load Capacity: 390kg
Tyre size: 205-50-10